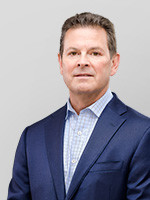 Charles (Chuck) Kummeth
President and Chief Executive Officer
Charles Kummeth became President and Chief Executive Officer of Techne Corporation on April 1, 2013. Prior to joining the Company, he served as President of Mass Spectrometry and Chromatography at Thermo Fisher Scientific Inc. and was President of that company's Laboratory Consumables Division from 2009 to September 2011. Prior to joining Thermo Fisher, Mr. Kummeth served in various roles during his 24 year career at 3M Corporation, most recently as the Vice President of the company's Medical Division from 2006 to 2008.
Mr. Kummeth received a Master of Science in Computer Science from the University of St. Thomas and a Master of Business Administration from the Carlson School of Business at the University of Minnesota. He is a graduate of the University of North Dakota, where he received a Bachelor of Science in Electrical Engineering. Mr. Kummeth serves on the boards of Sparton and Avantor.
Jim Hippel
Chief Financial Officer
James T. Hippel became Chief Financial Officer on April 1, 2014. Prior to joining the Company, he served as Senior Vice President and CFO for Mirion Technologies, Inc., a $300 million global technology and manufacturing company which provides mission critical products to detect, monitor and identify radiation. Prior to Mirion, Mr. Hippel served as Vice President, Finance at Thermo Fisher Scientific, Inc., leading finance operations for its $2 billion Mass Spectrometry & Chromatography and $1 billion Laboratory Consumables divisions. Mr. Hippel's experience also includes nine years of progressive financial leadership at Honeywell International, within its Aerospace Segment. He began his career with KPMG Peat Marwick LLP. Mr. Hippel holds a Masters in Business Administration from Arizona State University and a Bachelor of Accountancy degree from Northern Arizona University. He is also a CPA (inactive).
David Eansor
President, Protein Sciences Segment
Dave Eansor was appointed Senior Vice President of the Biotech Division in April 2015. Prior to that Mr. Eansor was Senior Vice President, Novus Biologicals, after the Company's acquisition of Novus Biologicals in July, 2014. Prior to joining Novus Biologicals in 2013, Mr. Eansor was the President of the Bioscience Division of Thermo Fisher Scientific. Mr. Eansor was promoted to Division President in early 2010 after 5 years as President of Thermo Fisher's Life Science Research business.
Kim Kelderman
President, Diagnostics and Genomics
Kim Kelderman joined Bio-Techne on April 30, 2018 as President, Diagnostics and Genomics. Prior to Bio-Techne, Mr. Kelderman was employed at Thermo Fisher Scientific where he led three different businesses of increasing scale and complexity. For the last three years, Mr. Kelderman managed the Platforms and Content of the Genetic Sciences Division, where he was responsible for the Instrumentation, Software, Consumables and Assays businesses, and brands such as Applied Biosystems and legacy Affymetrix. Before joining Thermo Fisher, Kim served as Senior Segment Leader at Becton Dickinson, managing the global Blood Tubes "Vacutainer" business
Brenda Furlow
General Counsel, Secretary and Chief Compliance Officer
Brenda Furlow joined the Company as Senior Vice President and General Counsel in August, 2014. Before joining the Company, Ms. Furlow was affiliated with Alphatech Counsel, SC and served as general counsel to emerging growth technology companies. From 2007 to 2011, Ms. Furlow was General Counsel for TomoTherapy, Inc., a global, publicly traded company that manufactured and sold radiation therapy equipment, and from 1998 to 2007, she was General Counsel for Promega Corporation, a global life sciences company, Ms. Furlow holds a Juris Doctor degree from University of Chicago Law School.